~ Chocolates with Nuts ~
Our signature chocolate, with different selections of nuts. A perfect mix of crunch and smoothness.
You can order our chocolate with nuts for delivery over the phone. Chocolate with nuts are $38/lb plus tax and shipping. You can also order for pickup.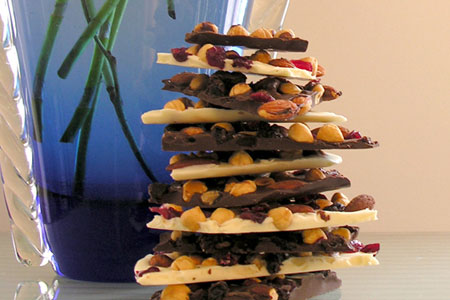 Chocolate Nut Bar
Our signature blend of the highest quality, fresh-roasted almonds, hazelnuts, pistacios, and dried cranberries is available in dark, mille, or white chocolate. Smoothly melting with highlights of contrasting texture and flavor.
Almond Butter Crunch
Roasted crunch of almonds bathed in buttery caramel and finished with the sweet creaminess of the best milk chocolate. Has real depth of flavor.

Try our other varieties of chocolates with nuts!
Almond Clusters
Hazelnut Clusters
Cashew Clusters
Walnut Clusters
Pecan Clusters
Cashew Patties
Pecan Patties
Almond Bark